Local Business Listing
With over 90% of Smart-phone users using their devices to find local information, and over 70%  connecting with a business locally through phone or map, businesses can no longer afford to ignore their location's key data points like address, phone number, business and service hours, and product and service details.
Local Business Listing Management & Optimization
In today's digital world, directories are not stand-alone repositories of information.  Search Engines and directories are continuously sharing data to ensure that they have the latest and most up-to-date accurate information.  However, as a negative consequence, data that is changed in one place, may not be changed in another.  Or worse, sometimes old data that is sitting on a well-established trusted directory, may overwrite data that has been corrected.
Below is a look at some of the top online directories and data aggregators and how they share information.
Since there is so much sharing of data, it is imperative for businesses to have an accurate data profile across multiple core directories and search engines.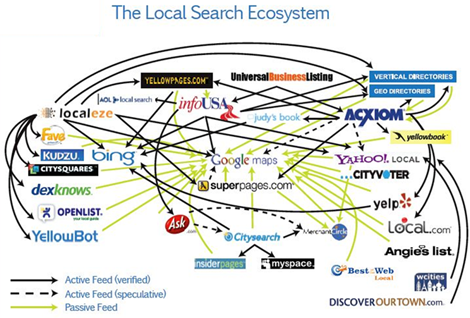 Why is accurate data so important?
Accurate data is important because Search Engines will very often rank listings and show business listing results on a map based on how detailed a business profile is completed, and how consistent that information is across multiple platforms.
What if my information is not consistent across various search engines?
We have developed The DRH Webcard, a one-stop solution to all your local data management needs.   As a Certified Marketing Representative for the Local Search Association, we've brought together our partners and developed cutting edge technology that allows a company to centralize it's local core business information like Name, Address, and Phone number. Moreover, the Webcard allows a business to build out a robust profile with keywords that allow businesses to reach audiences beyond their traditional categories.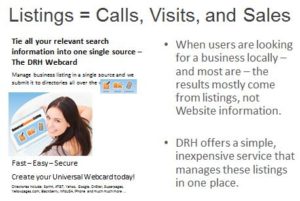 Where do Search Engines get their Local Information?
Data Aggregators are a key source of local information for search engine to draw from for correct names, addresses, and phone numbers (NAP). Very often search engines and local search platforms will pay to create a database and update the information regularly from those sources. Search Engines and local search directories and verticals also take their information direct from businesses.  Having robust information in your Business Listing can help you get found for many of your secondary products and services.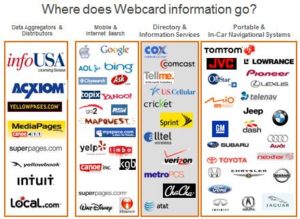 Trusted Directories from Supermedia, Yellowpages.com and Dex
The above have relationships with local phone companies and receive information when businesses open and close. At DRH, we work directly with Data Aggregators, Search Engines, and Major information sources to bring you a complete local Business Listing Management & Optimization Solution. Optimization is achieved when DRH regularly pushes out your data across the web. Search engine rankings place a high value on fresh and current data that is consistent across multiple sources. Moreover, your business information can be changed to meet seasonal needs of expanded business hours and closings. For more detailed information, please email us at businessdevelopment@drhinc.com or call us at (800) 842-9002 and ask for our business development team.
TELL US ABOUT YOUR MARKETING GOALS