Search Engine Marketing
Our SEM strategies are designed to help consumers find your businesses' products and services at every step of the buying cycle. Additionally, our WebReach program reaches across all the major search engines including Google, Yahoo, Bing, & Ask.
Search Engine Marketing from Seasoned Search Professionals
For over 40 years, DRH has been developing unique local search advertisements for major regional and national advertisers… Ads that set our clients apart from their competition.  Today, we build custom Search Marketing Campaigns that reach across all major search engines to bring you prospects that are looking for your products and services.
Our Unique SEM Process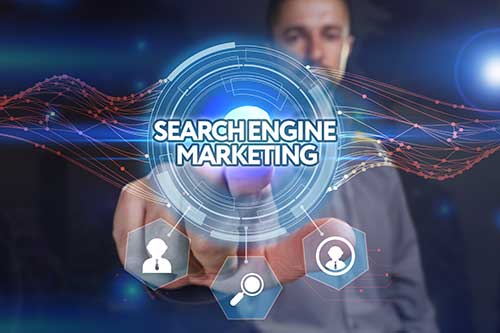 With DRH, you get one dedicated Media Consultant to guide you through the process every step of the way.  Our process begins with a thorough analysis of the products and services you offer and what makes them appealing to prospective audiences. We then do a competitive analysis to see what your competition is saying and offering.  We look at category and keyword statistics using the most advanced software and state of the art techniques. We also utilize Google Analytics to identify volume and traffic based on your businesses geographic areas of service.
Lead Generation | Ad Groups
Following our Drive, Engage, and Optimize strategy, we drive leads by developing ad groups around a product or service with several key messages, alternating visibility to the marketplace.
Measurement Using Statistics
We then engage the results by looking at quantitative statistics like impression, cost and click through rates, and balance that against such qualitative measurements as bounce rate, call duration, quality of call, and most importantly, check-outs and purchases.  We have a system in place which actually allows calls to be ranked one to five stars which feeds back into our system of ad group ranking. We optimize the campaign by continuously making adjustments in message, ad visibility and geographic exposure. Our goal is simple: to get you more business for less money!
Cutting Edge Technology Delivers Real Analysis
We use the latest software to give you a concise dashboard which reveals key metrics such as:
Impressions
Clicks
Calls (with call-recording)
Proxy Site & Dynamic Phone Number Insertion (DPNI)
By using reverse proxy technology and DPNI's, we are able to identify location, date of calls, and record the calls so we can evaluate campaign effectiveness and call center processing by listening and rating calls.
TELL US ABOUT YOUR MARKETING GOALS